Cook Group breaks ground to sprout new growth in Bloomington
---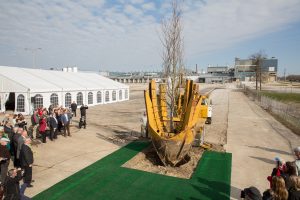 Bloomington, Ind. –  Today, Cook Group held a tree planting ceremony on the property of its newest facility on Bloomington's west side. The event marks the first step in the monumental undertaking to transform the former GE facility. The ceremonial planting of a Tulip Poplar, Indiana's state tree, is a sign of new life and growth for the once abandoned site. In addition to the ceremonial tree, Cook committed to plant over 200 trees on the property.
"This building represents an important part of our company's future. At the same time, we hope to make this project a part our community's future too," said Pete Yonkman, president of Cook Group and Cook Medical. "Our vision is to take this property and turn it into something the community can be proud of, to spur future growth for our community, our company, our employees and their families."
In 2017, Cook acquired the abandoned General Electric refrigerator manufacturing plant. The nearly one million square feet will double Cook's global headquarters creating a campus between the headquarters and the new facility. This project will add at least 500 new jobs over the next 10 years. Plans for the dilapidated plant will renovate the building into a state-of-the-art facility to manufacture medical devices. The first step of this revitalization is to transform the area, including a community walking path.
In celebration of the event and Bloomington and Monroe County's bicentennial, Cook gave 200 Tulip Poplar tree saplings to attendees at the ceremony.
About Cook Group
Cook Group is a family-owned company with headquarters in Bloomington, Indiana. Our diverse business portfolio includes companies working in life sciences, business services, resorts, property management, and medical devices.
Founded in 1963, Cook Group companies today employ more than 12,000 people around the world. We are committed to improving lives by giving back to our communities, supporting our employees and their families, and serving our customers and their patients. Learn more at www.CookGroup.com.