Cook Group completes purchase of former GE building
---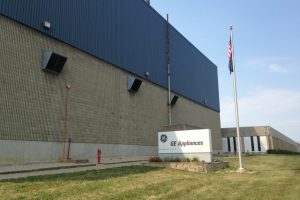 Bloomington, Ind. – Today, Cook Group announced the completion of the purchase of the former GE site near Cook's world headquarters on Bloomington's west side. With the purchase, Cook Group reaffirms its commitment to Bloomington.
"We started in southern Indiana over 50 years ago. Today, more than ever, we are committed to Bloomington," said Pete Yonkman, president of Cook Group and Cook Medical. "We're excited for all the opportunities available at the old GE facility to support our growth in the coming years."
Over the next 10 years, if market growth continues as planned, Cook Group expects to add at least 500 jobs in Bloomington at this new facility and its Daniels Way location.
"We need more space to accommodate our growth and to enable us to expedite modernization and transformation of our manufacturing process. The flexibility that the GE space provides will allow us to purpose build for efficiency in our production lines," said Yonkman. "The GE site is one of the only existing buildings in Bloomington that can meet our needs, and its close proximity to our global headquarters allows us to expand our west side campus."
The former GE site was built over 50 years ago to manufacture refrigerators. The last refrigerator came off the line at that facility in August 2016 when GE Appliances closed the Bloomington plant. With a history of revitalizing once-vacant buildings, Cook Group plans to invest in the property so it will once again be a source of pride for the community.
Cook Group purchased this facility through its subsidiary Cook Properties.


About Cook Group
Cook Group is a family-owned company with headquarters in Bloomington, Indiana. Our diverse business portfolio includes companies working in life sciences, business services, resorts, property management, and medical devices.
Founded in 1963, Cook Group companies today employ more than 12,000 people around the world. We are committed to improving lives by giving back to our communities, supporting our employees and their families, and serving our customers and their patients. Learn more at www.CookGroup.com