Cook Group shares COVID-19 lessons and offers knowledge and time from volunteers to help local businesses
---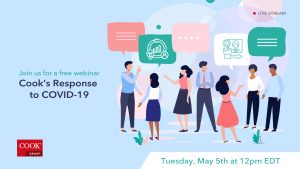 Bloomington, Ind. – As we all adjust to a new post-coronavirus world and begin to open businesses back up, Cook Group wants to give back to the community by offering knowledge and time from volunteers.
One way that Cook Group wants to contribute to community recovery is by facilitating a volunteer program to share their experiences and response to COVID-19. With specialties in areas such as HR, engineering, and IT management, these employees at Cook Group have volunteered to support local business as they open back up their operations.
"Whether you're a small business owner or the CEO of a global company, we've all been affected by the COVID-19 crisis. If we can share our time and our knowledge, then maybe that will provide a foundation for others as they re-open their businesses and face the new normal," said Yonkman. "Cook employees are always willing to help and we are excited about this opportunity. Our communities have supported us, and this is one way we want to give back."
Another way that Cook contributed to recovery efforts was with a free public webinar earlier today. Shared via Facebook Live, the webinar gave other businesses in the community a blueprint as they return to operations in the new, post-COVID-19 world. The webinar was hosted by a panel of Cook Group leaders who shared what the organization has learned so that other business leaders can benefit from the business continuity plans that Cook has developed to protect its employees and customers. Some information shared in the webinar includes:
HR policies created specifically to support employees' different life situations during the pandemic
Procedures for supporting an employee who becomes sick at work
Advanced cleaning and sanitization procedures
Ideas for creating safe public spaces and protecting customer interactions
Materials such as phased return-to-worksite plans and remote work guidelines that other companies can adapt to their own needs
You can view the recorded Facebook Live webinar here. If you have any questions, would like to request materials mentioned in the webinar, or would like information on areas of expertise with a Cook Group volunteer, you can email Community@CookGroup.com.
All businesses are different. Cook is offering our experiences for other companies to consider free of cost in the spirit of public service
About Cook Group
Cook Group is a family-owned company with headquarters in Bloomington, Indiana. Our diverse business portfolio includes companies working in life sciences, business services, resorts, property management, and medical devices.
Founded in 1963, Cook Group companies today employ more than 12,000 people around the world. We are committed to improving lives by giving back to our communities, supporting our employees and their families, and serving our customers and their patients. Learn more at CookGroup.com.