Cynthia Kretz receives honor for leading female general counsels
---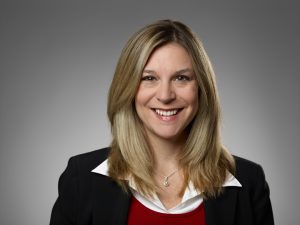 Bloomington, Ind. – Cynthia Kretz, vice president and general counsel at Cook Group, was honored for her excellence in the legal field as a part of this year's Shirley's Legacy award on September 21.
Barnes & Thornburg hosted its third-annual ceremony in honor of Shirley Shideler, the first woman to be president of the Indiana Bar Foundation. Kretz was one of five women recognized for her trailblazing spirit and outstanding accomplishments. They were applauded for cultivating and mentoring the next generation of female and minority leaders.
"It's an honor to be recognized and there is a responsibility that comes with it," said Kretz. "It is important that we continue to mentor and support young women in the legal field. I have been blessed throughout my career to have mentors who have guided me. As in any profession, there is true value in nurturing the careers of young lawyers as they continue to grow in their field."
As Cook's vice president and general counsel, Kretz leads global operations of the legal department as well as directing representation in court. Prior to her nine years with Cook Group, she worked for Wabash National. It was there that she formed their legal department and would later operate as vice president general counsel and secretary to the board of directors.
"Cynthia has been an integral member of our leadership team for the past nine years," said Pete Yonkman, president of Cook Group and CookMedical. "It's no surprise to me that she's being recognized for her accomplishments. She sets an outstanding example for future leaders in our organization."
Cook Group is proud to congratulate Cynthia Kretz on this honor as she continues to be a leader in her field and her community.

About Cook Group
In 1963, Bill and Gayle Cook created a small company that manufactured three simple medical devices used to treat patients in less invasive ways than common surgical techniques of the time. That small company grew into Cook Medical, with global reach and products for treating conditions in almost every system of the body and area of the hospital.
Along the way, this entrepreneurial family branched out into other areas of business – to explore new types of medical treatment; to support their passions, like historic preservation; and to support their growing group of employees and the communities where they live.
Cook Group was created to provide support and oversight to the Cook companies, which remain family owned.