Barbara Browning receives New Adult Educator of the Year for work with My Cook Pathway
---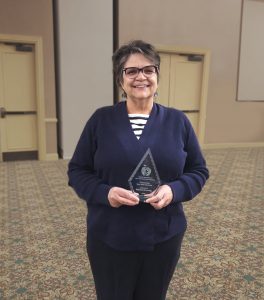 Bloomington, Ind. – Yesterday, Barbara Browning was named the 2018 New Adult Educator of the Year by the Indiana Association for Adult & Continuing Education (IAACE). Browning is being recognized for helping 28 students from Cook earn their High School Equivalency (HSE), which made them eligible for full-time employment with the company. Each year, this award is presented to an educator with less than three years of experience in adult education and who has made significant contributions to the field.
"Being a part of adult education gives perspective on the lasting impact education can have on a person's life," said Browning. "Earning an HSE diploma creates opportunities for adults who wouldn't have them otherwise."
Browning began working with Cook students in 2016 when Cook Group launched the education assistance component of My Cook Pathway. Cook's partnership with MCCSC's Broadview Learning Center for adult education allows employees to work part-time at Cook while earning their HSE diploma. Once they complete the program and earn their diploma, graduates are then eligible for full-time employment.
Browning earned a B.S. in Education from Indiana University-Purdue University Fort Wayne and holds two master's degrees from Indiana University in Public Affairs and Environmental Science. In 1994, she began teaching science at Crispus Attucks Middle School in Indianapolis, IN. Her career in Bloomington started in 2002 when she taught environmental science before she began teaching at Broadview Learning Center Adult Education in 2010. Since the 2016 inception of the My Cook Pathway, Browning has been the first and only instructor for Cook's HSE program.
To learn more about the My Cook Pathway education program please visit:
https://www.cookmedical.com/careers/employee-support/

About Cook Group
Cook Group is a family-owned company with headquarters in Bloomington, Indiana. Our diverse business portfolio includes companies working in life sciences, business services, resorts, property management, and medical devices.
Founded in 1963, Cook Group companies today employ more than 12,000 people around the world. We are committed to improving lives by giving back to our communities, supporting our employees and their families, and serving our customers and their patients. Learn more at www.CookGroup.com.