Cook Group to host electronic waste recycling event in Bloomington
---
Bloomington, Ind. – Cook Group will host a community recycling event for electronic waste on Saturday, April28, to observe Earth Month. Cook is partnering with RecycleForce because both organizations believe in breaking down the barriers to employment that hold people back. RecycleForce is an organization that helps formerly incarcerated individuals rebuild their lives through workforce training, development, and job placement in their recycling facility.
"We are excited to collaborate with RecycleForce to bring this event to our community," said Pete Yonkman, president of Cook Group and Cook Medical. "RecycleForce provides life-changing workforce training that empowers individuals to reach their full potential."
Who:       General public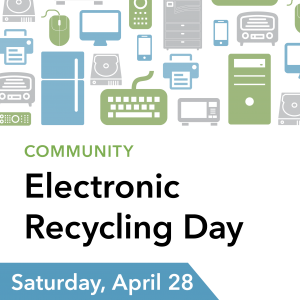 When:     Saturday, April 28, 2018 from 9 a.m. – 2 p.m.
Where:    301 N. Curry Pike, Bloomington, IN. The event will be held in the main parking lot at Cook's newest facility.
What:     Household electronics such as TVs, computers, refrigerators, flash drives, and other appliances. View a complete list of items that can be recycled.
State law requires the safe disposal of e-waste because these products contain hazardous elements that can cause damage to our natural environment and public health. For more information about the event, visit bitly.com/CookRecycles2018.
About Cook Group
Cook Group is a family-owned company with headquarters in Bloomington, Indiana. Our diverse business portfolio includes companies working in life sciences, business services, resorts, property management, and medical devices.
Founded in 1963, Cook Group companies today employ more than 12,000 people around the world. We are committed to improving lives by giving back to our communities, supporting our employees and their families, and serving our customers and their patients. Learn more at www.CookGroup.com.